Home

Astronomy research
Software instruments
Presentations
Illustrations
cococubed YouTube
Bicycle adventures
Public Outreach
Education materials
Solar Systems Astronomy
Energy in Everyday Life
Geometry of Art and Nature
Calculus
2022 ASU Solar Systems Astronomy
2022 ASU Energy in Everyday Life

AAS Journals
AAS YouTube
2022 Earendel, A Highly Magnified Star
2022 TV Columbae, Micronova
2022 White Dwarfs and 12C(α,γ)16O
2022 Black Hole mass spectrum
2022 MESA VI
2022 MESA in Don't Look Up
2022 MESA Marketplace
2022 MESA Summer School
2022 MESA Classroom
2021 Bill Paxton, Tinsley Prize


Contact: F.X.Timmes
my one page vitae,
full vitae,
research statement, and
teaching statement.


Here are the phyllotaxis movies that I use in my Geometry of Art and Nature class. Either grab the animated gifs shown below or click on one to get a mp4 movie version. The small tool in fib.f90.tbz generates data files containing the (x,y) positions of the N particles. Each data file can be plotted to form one frame of a movie.



| | |
| --- | --- |
| 0.5 turns per seed | 0.48 turns per seed |
| 0.6 turns per seed | 0.61 turns per seed |
| root 2 turns per seed | φ turns per seed |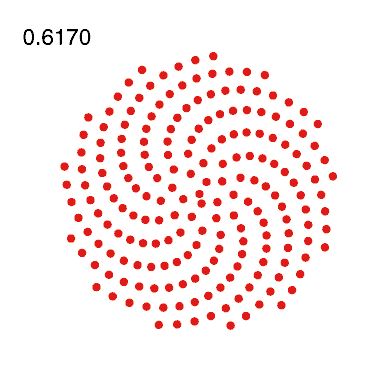 near φ turns per seed